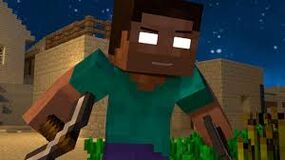 Take Me Down is a parody of One Direction's song "Drag Me Down." It was created by Radapedaxa and uploaded on April 9, 2016. Lead vocals are done by Matt Greco and instrumentals by DragDuo.
The video has over 35 million views and is the most-viewed video on Radapedaxa's channel. It is the second video in his Herobrine Parody Series, preceded by Herobrine's Life and followed by Monster Crew.
I've got a diamond for a heart
My eyes glow in the dark
They'll never ever hurt me easy
I've got a Wither for a soul
And many evil goals
I prowl on your world for no reason
[Pre-chorus]
Disturbing the villages I won't give them rest
These shadowy nights I lurk and bring dread
A dangerous man who wouldn't really die
They know my name as Herobrine
(Yeah)
The dreaded Herobrine attacks a village, armed with a powerful pickaxe and the ability to take an unlimited amount of body damage. He quickly slaughters the town golem and the most of warriors. When he tries to kill the last warrior, the warrior reveals himself to be his archenemy, the powerful Entity 303. The two engage in a mighty battle, and the song fades out with Entity 303's massive laser beam forcing Herobrine onto the defense with his pickaxe.