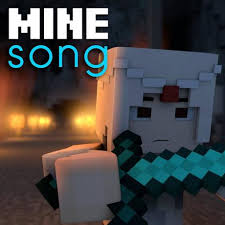 Mine Song is a parody of Rachel Platten's "Fight Song." It was created by Nano Active Productions and uploaded on January 5, 2016. Lead vocals are sung by LindeeLink and animations by TheBlueJerome.
The video currently has 11 million views and was the first parody created by Nano Active Productions.
[Verse 1]
Like a small pig in a mineshaft,
I've lost my way, but I'll keep believing,
How a single axe can make an ore open,
I might only have one pick, but I'm gonna find diamonds.
[Pre-Chorus]
And all those things I didn't see,
Mining ores inside my brain,
I'll see diamonds bright tonight,
Can you hear my voice tonight?
[Chorus]
This is my mine song,
My own survival song,
Prove I'm alright song.
My furnace is turned on,
Crafting right now, I'll be strong,
I'll play my mine song,
And I don't really care if nobody else believes,
Cause I've still got a lot of mining left in me.
[Verse 2]
Losing ores and I'm chasing sheep,
There's nowhere safe for me to sleep,
I'm in too deep, yeah I've dug too deep.
And it's been two caves, I missed the spawn,
But there's a fire burning in my bones,
And I still belive, yeah I still believe
[Repeat Pre-Chorus and Chorus]
[Repeat Verse 1 and Chorus]
Now I've still got a lot of mining left in me!
Ad blocker interference detected!
Wikia is a free-to-use site that makes money from advertising. We have a modified experience for viewers using ad blockers

Wikia is not accessible if you've made further modifications. Remove the custom ad blocker rule(s) and the page will load as expected.